Since my birthday was yesterday - THANKS for all the well wishes also! I decided to make today a 2for! You get two of my outfits in one post! Being as this is the last week of my 20 day challenge (so fun), I didn't want to fall behind on posting all my different looks!
New skirt from TJ Maxx Clearance! Can you tell I have been sitting all day :)
White top from NY&Co in stores. Earrings - Gift!
Shoe Dazzle heels
My birthday outfit!
Dress from Target (2011)
The blue peaking out from the V is a bra band I picked up at Apricot Lane for $9
It goes over your bra to help with low V necks or see through shirts.
Added Enamel bracelet, Watch, Long necklace from Apricot Lane, and Triangle necklace from F21
Nude pumps found TJ Maxx 2012.
Linking up with: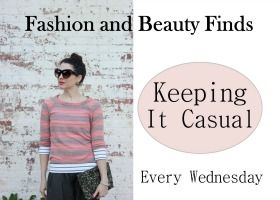 The Pleated Poppy
,
Simple Sequins