Crazy week already! First day back a school Monday, of course the book store has my only class book on back order! Then straight to work after. Tuesday is always busy with Full Time to Part Time putting me home after 9! Here is how I style these two days....
Cotton skirt from Target, High Low Peplum Tank from Target (current clearance!), with jean jacket and converse. Totally work appropriate and not to dressy for school!
Shirt Dress - been in my closet for several years. Hello size 4 that still fits!
Dress NY&Co, belt Amazon, booties 2010
I FINALLY have a pave bracelet! Love it!
Embracing the booty trend. I love these but sadly can't remember where I got them!
Then off to my Part Time job.....
Gray Vintage T from Old Navy, Blush pants from Target, Ultra Thin Cardigan from Charlotte Russe.
Linking up with: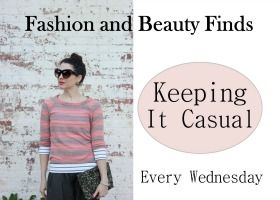 Oh and a little giggle moment: